Make plans to go to the Farmers Market this weekend to support our Mesilla Entrepreneur students!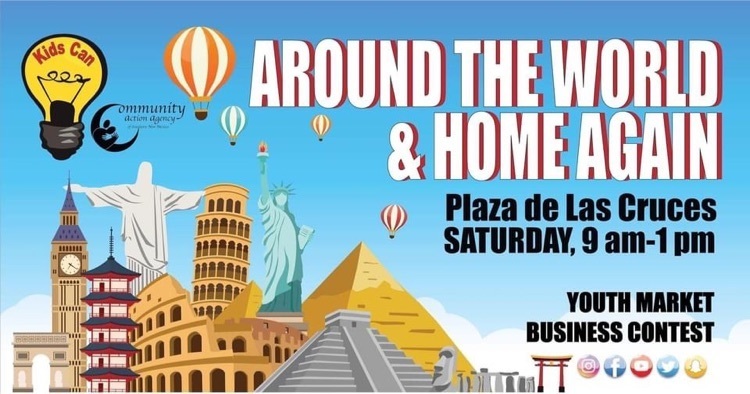 Mesilla Families - Please mark your calendars for this special event presented by our school's cheer team!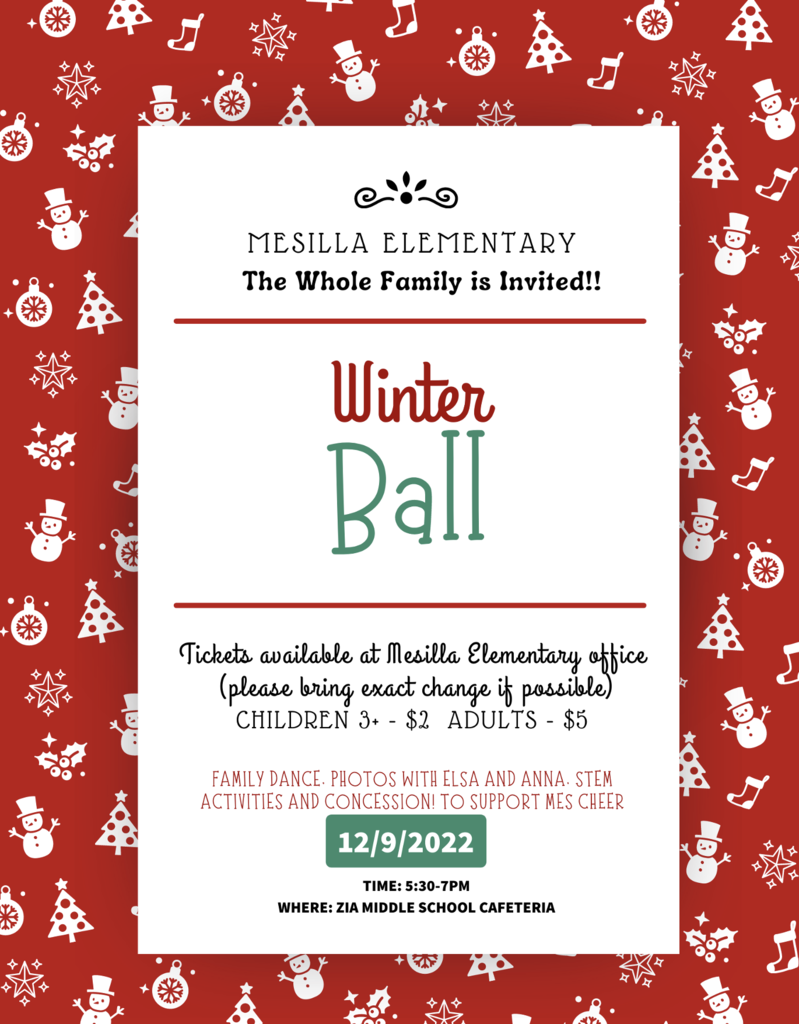 Thank you NMSU STEM Outreach Program for supporting Mesilla Elementary on our Enriched Learning Day!

We can't wait to see everyone!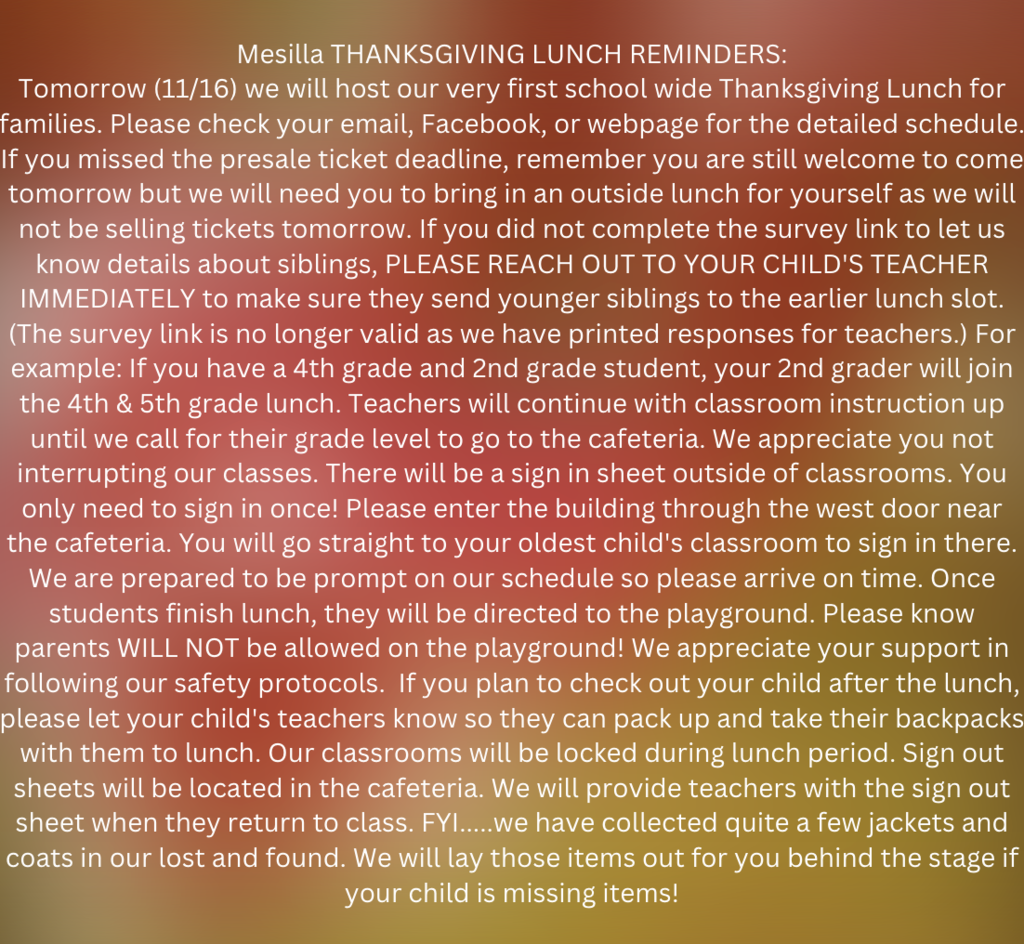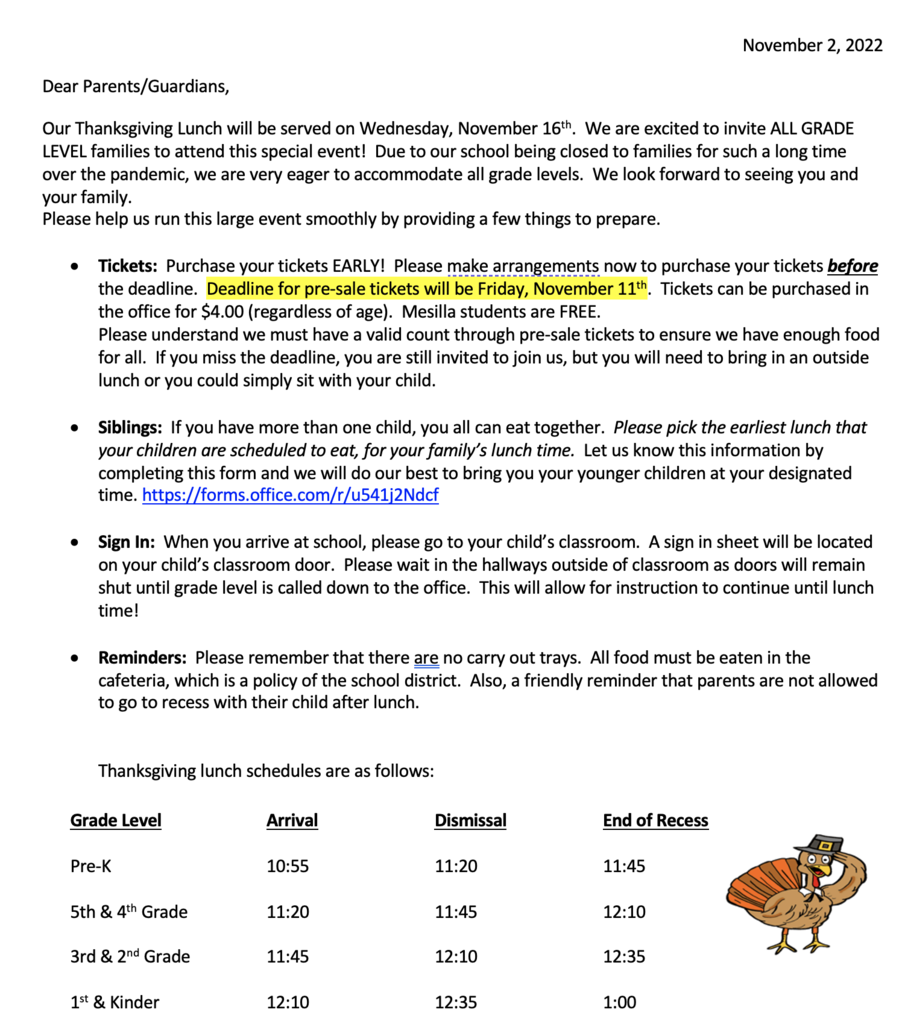 Las Cruces Public Schools will be collecting general hygiene donations via drive-thru from 11am-2pm today out front of the Karen M. Trujillo Administration Complex to supply Care Kits for Kids to help support LCPS students. Please stop by to help support this great cause.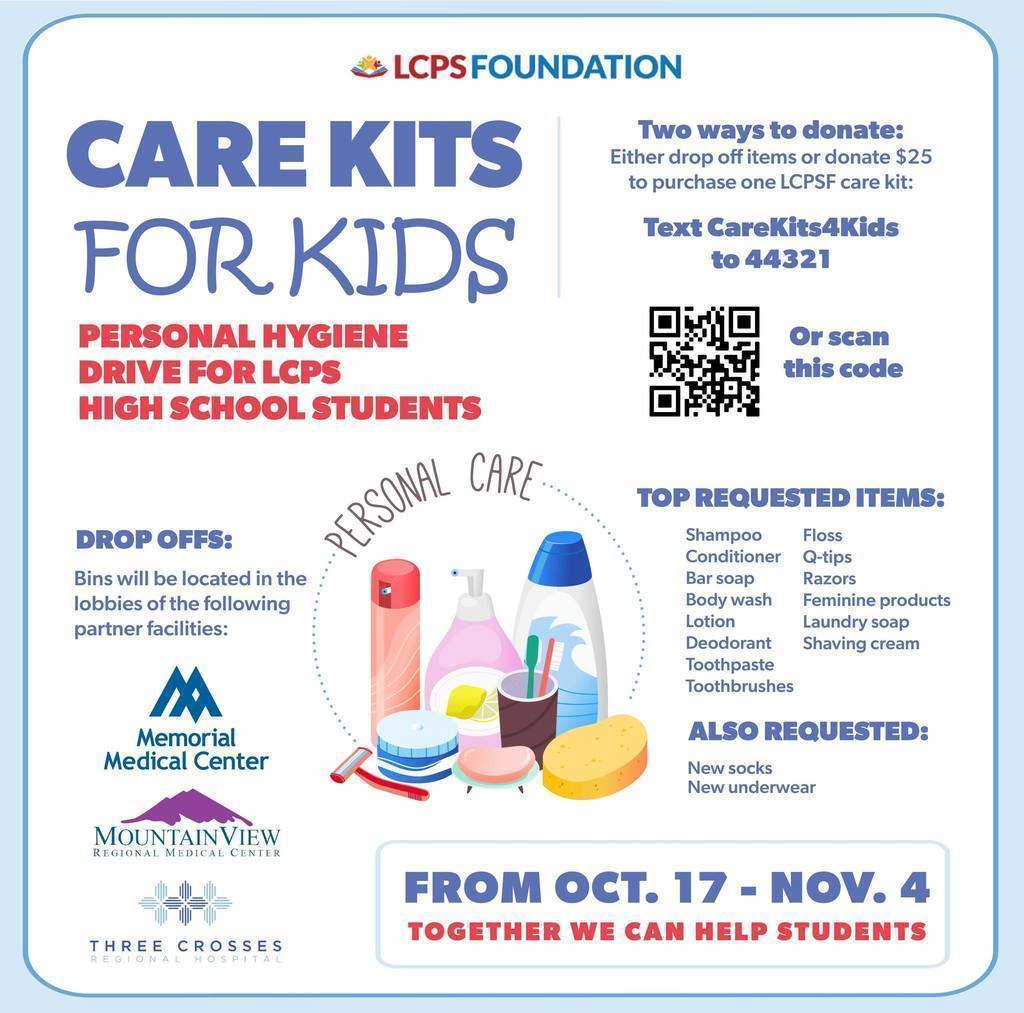 Picture ReTakes will take place on 11/16.

We are super excited about honoring our Veterans!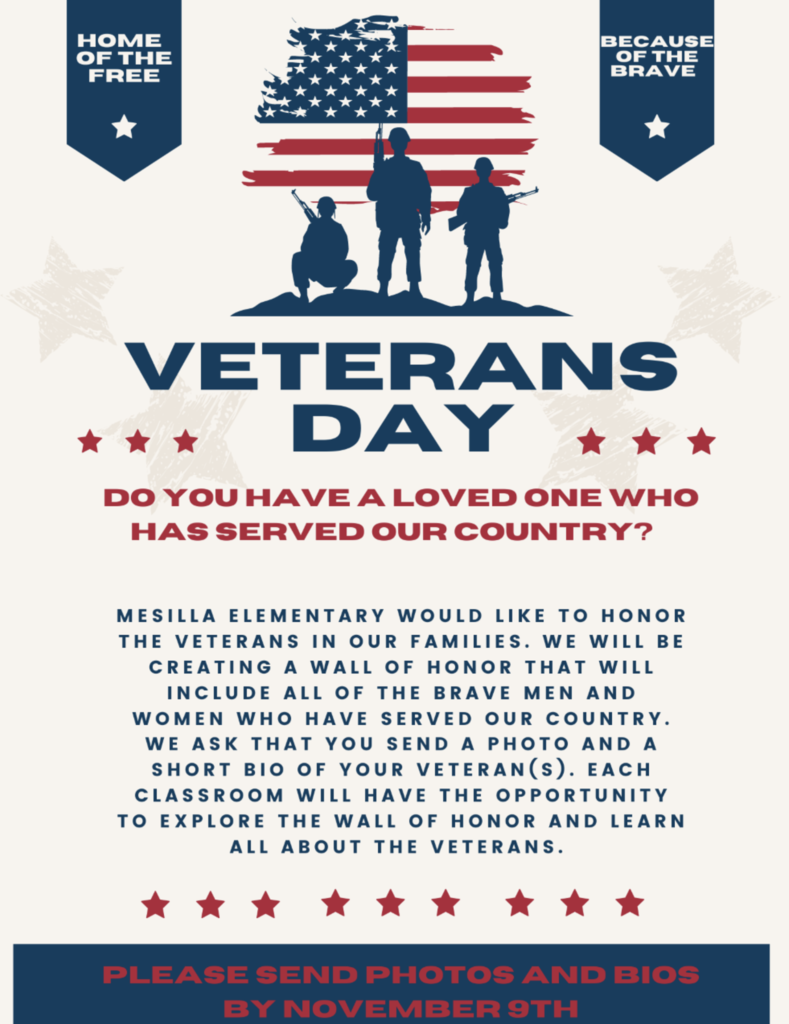 https://forms.office.com/r/u541j2Ndcf
If you will be attending our Thanksgiving Lunch on November 16th, please take a quick moment to provide us with a bit of information to help us prepare!

Thanksgiving Lunch Details - We can't wait to see you and your family!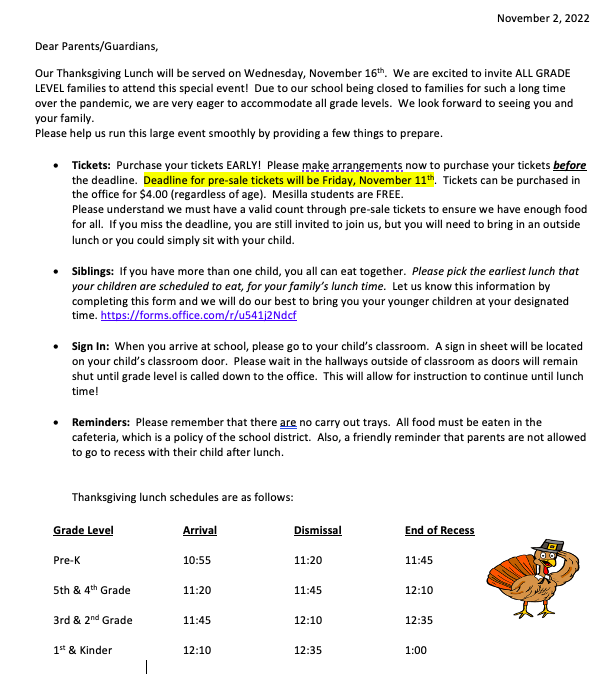 From October 17 to November 4, you can help make a huge difference in the lives of Las Cruces Public Schools high school students! Our healthcare community is proud to come together to support the Las Cruces Public Schools Foundation, Inc. Care Kits for Kids personal hygiene supply drive. See the image for the two ways in which you can support this great cause. Drop-off bins will be located in the main lobbies of MountainView Regional Medical Center and Three Crosses Regional Hospital, and at Central Office in the Karen M. Trujillo Administration Complex. #MakingCommuntiesHealthier #CareKits #ForKids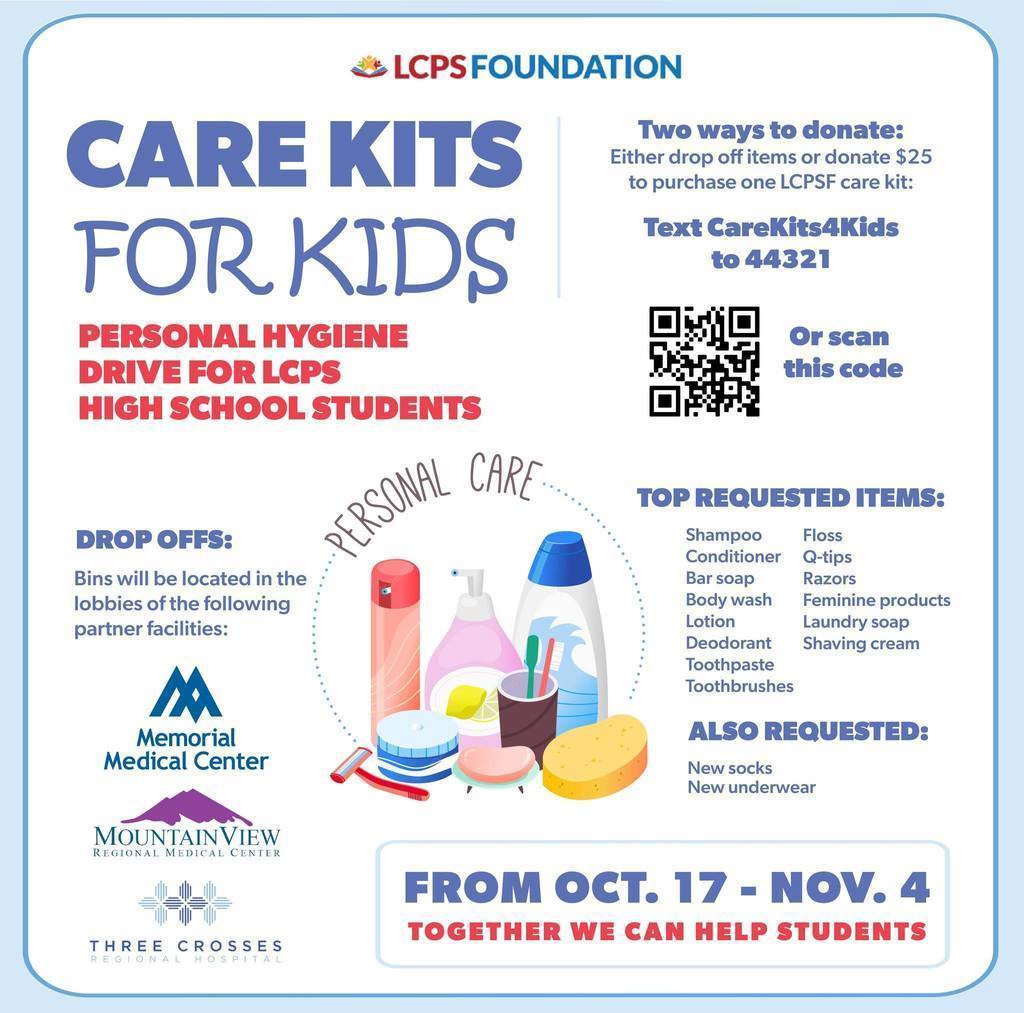 Students get ready for the return of the Las Cruces Space Festival poster contest!! The Las Cruces Space Festival is an annual celebration of space-related activity and interest in southern New Mexico and beyond. The mission is 'Making Space for Everyone'. The festival is free to participate in, and open to all, with the cost of activities, presentations, displays, and exhibits all covered by sponsors. Please see the flyer for contest details. For more information, please visit: lcspacefestival.com.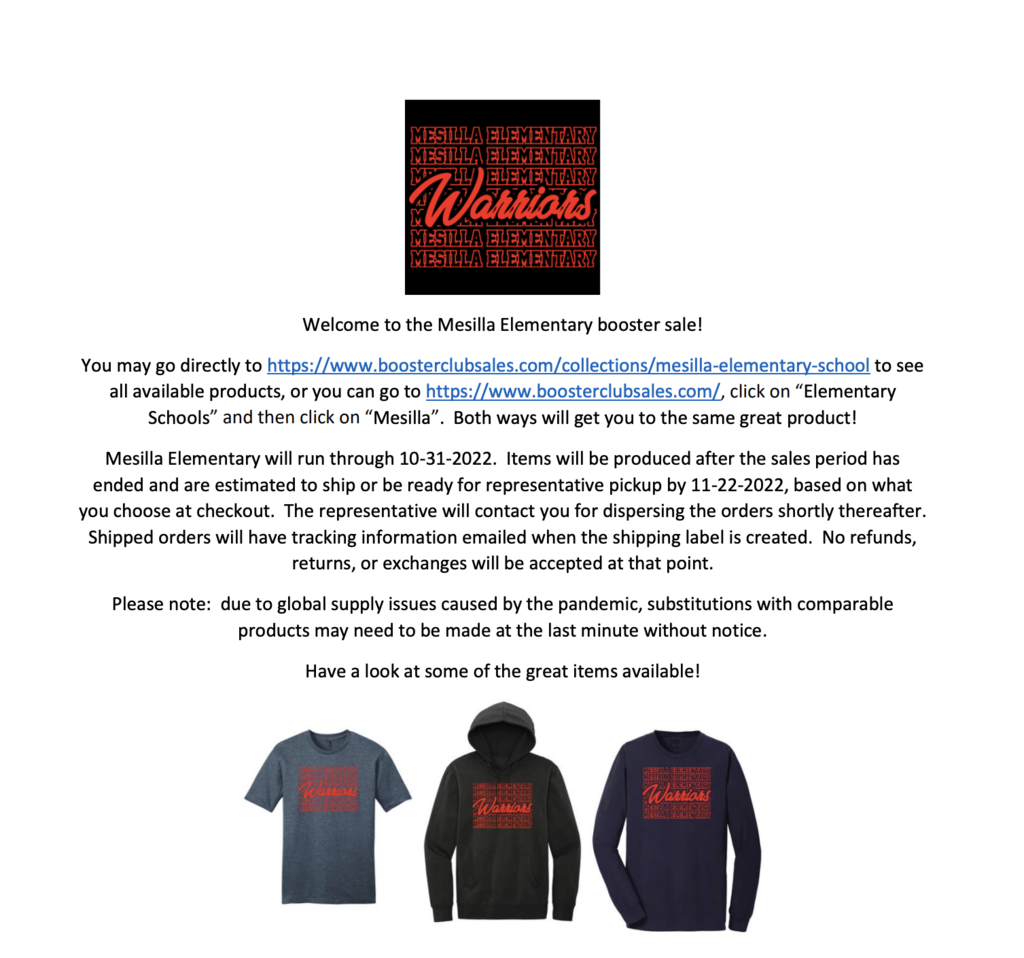 Las Cruces Public Schools was invited to the Doña Ana County Commissioners meeting today to accept the proclamation for Diabetes Awareness Month in Doña Ana County. Doña Ana County Commissioner Manuel Sanchez honored LCPS for the work and commitment the district has done to serve students and staff living with diabetes. LCPS provides a registered nurse in every school and educates staff to recognize the signs of diabetes while actively helping those living with diabetes. Doña Ana County Commissioner Shannon Reynolds stated that LCPS exemplifies what Senate Bill-48 was designed to do. Whereas, worldwide, we acknowledge November as Diabetes Awareness Month to bring attention to diabetes, and awareness of all forms of this chronic condition and over the past 10 years, the risk of developing Type 2 Diabetes has significantly increased. Today, we highlight diabetes because of its detrimental impact on our community, as pre-diabetic. Yearly, 12,484 people in New Mexico are diagnosed with diabetes; and amount adults, Type 1 Diabetes accounts for 5% of diagnosed cases. Nationwide, an estimated 110 people are diagnosed with T1D every day, half of them are children. These children live with the daily struggle of continuous monitoring, anxiety, caused by difficult-to-maintain sugar levels, and a need for timely snacks with a continuous risk of potential complications. SB-48, the Student Diabetes Management Act of 2019 provides guidelines for school districts to follow in managing students with Type 1 or Type 2 Diabetes and allows for needed training for school staff, so they can recognize early signs of a potential emergency. The requirements help standardize the type of care and management parents can expect for their children while they are at school; and whereas, statewide, free diabetes prevention or self-management program classes are available at
www.pathstohealthnm.org
. The Southern New Mexico Diabetes Outreach helps prevent and manage diabetes and hosts a monthly T1D education group for youth and a yearly conference scheduled on October 29 featuring wellness and vision screenings, talks about diabetes medications, cooking and more. Click the link for the full proclamation:
https://5il.co/1jt0l
Register at
SNMDO@snmdo.org
.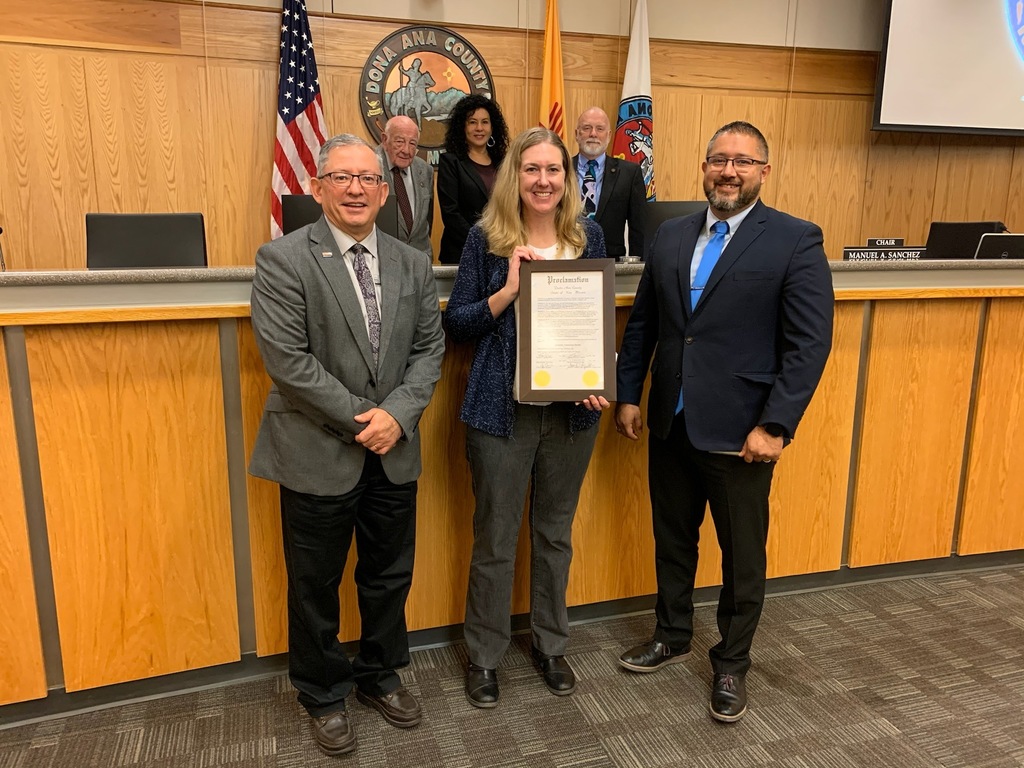 On October 25, the Doña Ana County Commissioners gave a Proclamation designating November 26, as Ronnie Granados day in Dona Ana County. Sgt. Granados passed away after a brief illness on September 12, 2022. He was a Sergeant for the Doña Ana County Sheriff Office and Public Servant who started his career in law enforcement in 1990 as a codes enforcement officer. He transferred to the Doña Ana County Sheriff's Office 5 years later, where he served with honor and integrity for the next 13 years, working as a patrol deputy, a detective, expert crime scene processor, and a member of the bike patrol. After retiring in 2008 as a sergeant, he returned four years later to do contract work as a D.A.R.E. and G.R.E.A.T. teacher. He started at Tombaugh Elementary, and then spent the next 25 years with LCPS students, Hatch Valley Public Schools and also in the Gadsden Independent School District. Being in the classroom was Ronnie's true passion, and tens of thousands of students will remember him fondly. The district is grateful for his service and sends our deepest condolences to his family. Click the link to view the proclamation:
https://5il.co/1jt0k

We hope to see you at our Fall Festival! It has been a wonderful fundraiser for Mesilla for many years!

Today, NMSU's Department of Family and Consumer Sciences honored Anita Cummings from Las Cruces Public Schools as the Department's 2022 Outstanding Alumni. Anita is highly involved in the career and technical education (CTE) program at Las Cruces High School and is the lead for Educators Rising, an education pathway program that is designed to encourage and recruit students to come back to our district to become educators and give back to their community. The goal is to raise up a generation of teachers that understand the needs of our community. NMSU's College of Agricultural, Consumer, and Environmental Sciences hosted the Homecoming Recognition Breakfast for NMSU alumni on October 21.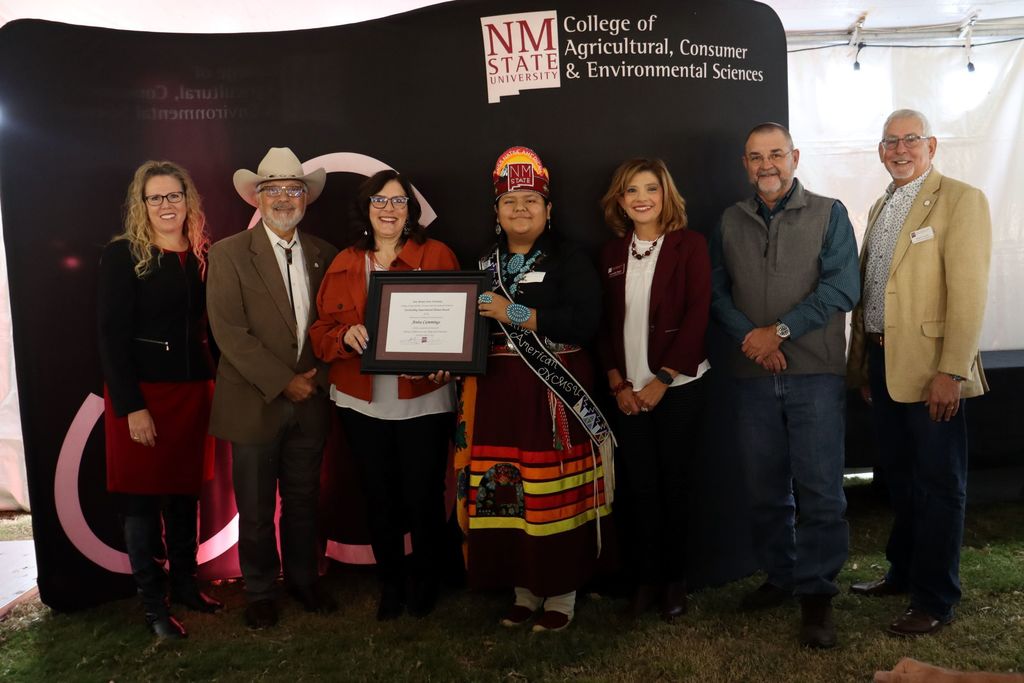 We cannot wait to see everyone! Please take note of our performance times!

Reminder: Get your pumpkins decorated this weekend for our contest! Remember, this is an OPTIONAL at home project!